September, 2023
"Let me respectfully remind you:
Life and death are of supreme importance.
Time swiftly passes by and opportunity is lost.
Each of us must strive to awaken. Awaken!
Take heed. Do not squander your life."

—Our Evening Gatha
Dear Sangha,

Dog years are a devastating phenomenon, if you have a dog you love. Seven years to our one, is the formula. That means my sweet little girl-puppy, nearing ten years old, is really almost seventy now. It also means that one day is, for Brooklyn, somehow seven. Yes, each day is a week, each week is near two months, each month is more than half a year. Oh, for time—for life—to move this quickly, galloping so relentlessly on.

We humans are not immune to this version of time. Indeed, that one year suddenly becomes seven: this is the nature of our lives, too, is it not? Certainly, it did not take 47 years for me to become 47. Time skips and lurches and falls away—great gulps of it are swallowed up—and then, impossibly, here you are.

There are very few months that so exemplify this slipping away of time like September. It's funny, too, because September can be so still, the quiet heat, the hum of insects. It has all the relaxed laze of summer, and yet just beneath it, there is this crisp in the air of winter to come. You can sense the seasons at work, the great, groaning shifting of the planet's gears—and in the pit of your stomach is a hollow, a gulp of emptiness, a pang for things lost, all those summers gone.

In some senses, September is the saddest month, but its reminder—to be aware of the too-swift tumbling of time—offers opportunity, too. That coolness of September shadow, it can awaken us, if we let it.

With love,

Taylor Plimpton

Editor
---
ZENDO NEWS:
NEW SUNDAY SCHEDULE
The Village Zendo's Sunday morning schedule will change beginning on Sunday, September 10, 2023. The new program structure will encompass two periods of zazen (there was one previously) and two 10-minute kinhin periods (previously, there was one 5-minute kinhin). This schedule change will apply to both the online and in-person aspects of our program—please see below for details.

The new schedule means that Dharma Talks will begin at 10:55 am Eastern time.

The schedule change noted above does not apply to the first Sunday of each month when two programs run independently and in parallel. Practice and Inquiry Circle (led by Joshin Roshi online only) and Body, Breath and Mind; an Introduction to Zen (led by Executive Director Howard Thoresen in-person only) will continue with their same structures and schedules.
New Sunday Schedule:
9:30 – 9:35 Service
9:35 – 10:05 Zazen
10:05 – 10:15 Kinhin
10:15 – 10:45 Zazen
10:45 – 10:55 Kinhin
10:55 – 11:25 Dharma Talk
PEOPLE OF COLOR GROUP

EXPANDED SCHEDULE
Beginning Saturday, September 16, the POC group will have a monthly extended sit, from 10:30 am to 1 pm

Beginning Saturday, September 23, the POC group will have a monthly book discussion following our regular 10:30 am to 12 pm time slot. This month's book will be The Diamond That Cuts Through Delusion, by Thich Nhat Hanh.

Future dates for these events will be listed on the Village Zendo calendar.
---
REPORT ON WORK FOR DHARMA DAY

Dear Village Zendo Community,

Our 2023 fundraiser, Work for Dharma Day, raised $20,300.

Although our rent is less as of April 1, we have had many expenses associated with establishing our new space, improving the audio functioning for the hybrid format, storage fees, etc. Your generous contributions help us to meet these costs and to secure our future.

The Executive Committee joins me in thanking you for your ongoing support.

With deep appreciation,




Howard Thoresen, Executive Director
The Village Zendo
---
September Calendar
Sunday, September 3: Online: Practice and Inquiry Circle

with Joshin Roshi

In-Person: Body, Breath and Mind,

an introduction to Zen

Monday, September 4:
Zendo closed for Labor Day
Thursday, September 7: Zazen and Dharma Talk by Enkyo Roshi

Saturday, September 9: Zazenkai

Sunday, September 10: New Schedule, two periods of Zazen

Dharma Talk by Keiko

Music Jam

Thursday, September 14: Dharma Talk by Daishi Hoshi

Newcomers' Meeting

Saturday, September 16: Four Vows Workshop—Saving Sentient Beings

Sunday, September 17: Dharma Talk by Fusho Hoshi

Wednesday, September 20: Guest Speaker from Soto-Shu, Japan

Thursday, September 21: Dharma Talk by HonGo

Saturday, September 23: Prison Letter-Writing Group meeting

Sunday, September 24: Dharma Talk by Mukei

Thursday, September 28: Fusatsu, Precepts Talk by Bokushu Sensei

Saturday, September 30: Four Vows Workshop—Ending Desires


___________________________
Ongoing Groups:

The Bolivian Sitting Group meets Saturday mornings, 8 am

Bolivia Zoom Meeting ID: 297 525 8394; Password: 1234

The People of Color Sitting Group meets Saturday mornings, 10:30 am

How to Meditate meets Monday evenings (except holidays) at 6:30 pm

Sorting Out Your Stuff meets Tuesdays at 10 am

Liturgy Training: 1st and 3rd Wednesdays of each month at 6 pm
---

Saturday, September 16

2 pm to 3:45 pm

Online Only

Please join us for the first part of a four part series

of workshops on the Four Vows:

Saving All Beings

The Four Bodhisattva Vows are chanted at the end of services at the Village Zendo and in most Mahayana Buddhist centers around the world. They express our profound vows as Bodhisattvas – to save beings from suffering, to let go of delusion, to master the Buddha's teachings, and to awaken in each moment of our lives. But the language used to express these Great Vows is paradoxical and mysterious. How can we possibly save all sentient beings? Do we really want to end all desire? The Four Vows are seemingly impossible. It's their impossibility that gives them their power.
In this four part workshop series, we'll delve into each of the four vows in turn, examining what they mean to us, and how they work in our lives. The workshops are an intimate and experiential journey into our own life and practice, giving each of us an opportunity to renew our vows as Bodhisattvas.
In this workshop, we will explore the first of the Four Great Vows, our vow to save all beings from suffering. Who are the numberless sentient beings and who is the "I" that vows to save them? Is it possible to realize this liberation in our ordinary lives?

Workshop Schedule:
September 16, Saving All Beings, Leaders: Gessho and Ryoshin

September 30, Ending Desires, Leaders: Ryoshin and Mukei

October 21, Mastering Dharmas, Leaders: Mukei and Fusho

November 4, Being Buddha, Leaders: Fusho and Gessho

Registration is not required to participate in the workshop. A suggested donation of $15 for each workshop (or $50 for all four workshops) would help the Village Zendo sustain our operations. Please go to the "Support Us" page, enter a reason of "Other" and enter which workshop(s) you plan to attend, along with the requested information. Thank you for your practice and your support!
This workshop involves small group discussion and sharing among participants. As such it will not be recorded.
---
Wednesday, September 20, in-person and online

6 pm: Service with liturgy
6:30 pm: Zazen
7 pm – 8 pm: Dharma Talk and greetings
Rev. Kosai Ikeda

Sōtō-shū International Guest Speaker

Abbot of Kenryu-ji Temple

Chonai-cho Town in Yamagata Prefecture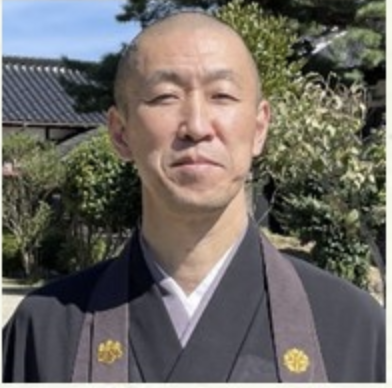 Practicing the Buddha Way

Wherever and Whenever

Please join us for this special visit from a representative of the Soto School in Japan.

"…I have been serving as a Buddhist chaplain of the local correctional facility for the last 15 years helping the inmates with their rehabilitation and re-entry programs. Regardless of circumstances, those who have aroused the mind to study the Way all equally have the eyes reflecting their sincere dedication.
Repenting their own shortcomings, their mind and heart are seeking the teaching of truth. While practicing the Buddha-way, I have been learning Kendo (Way of Sword) and teaching it to children.
Kendo was something I also briefly shared with people in San Francisco, where I realized that moments of empathy and awes transcend the barriers of languages. I see this is also exactly the same among those who walk on the Buddha-Way.
It is a great honor for me to visit temples overseas for the first time on behalf of the head priest of Soto Zen school in Japan. I hope you will kindly accept me as a sangha friend who shares the same aspiration."
Rev. Kosai Ikeda: Personal Profile
Graduated from Sakata Higashi High School Yamagat Prefecture, Japan. Dropped out of Hosei University, Faculty of Law and studied in the U.S. Graduated from College of San Mateo. Enrolled in Ango training at Chokoku-ji temple, Daihonzan Eihei-ji Betsuin (Branch Temple) in 1999. Enrolled in Ango training at Daihonzan Eiheiji Temple in 2000.
Currently the abbot of Kenryu-ji temple Chonai-cho town in Yamagata prefecture Tokuha Fukyoshi (Soto Zen Teacher Specially appointed to be a delegate of the Head Priest); Fukyo-shi Yoseijo Koshi (Instructor at the Institute to the Fukyo-shi disseminating teacher); Kendo (Way of Sword) Instructor for the Elementary and Junior High School students.
---
Saturday, September 23

1:30 pm – 3:30 pm

Online Only

Lifelines to Solitary Prison Letter-Writing Group

Most, if not all, of us have already forgotten the brutal heat waves that plagued New York and much of the country earlier this summer. And most, if not all, of us have forgotten—if we ever knew—that an unimaginable number of incarcerated Americans endured that heat in small, non-air-conditioned cells, with no access to fresh air or other relief. Many still do. Indeed, as I write this, the temperature is expected to reach 100 degrees today in Missouri; in Texas and Oklahoma 101; in Louisiana 102; in Arizona a whopping 107. What can any of us do about this situation?
Well, for one thing, we can bear witness. We can write a letter. Establish a correspondence with an imprisoned person, perhaps a deep friendship.
If this interests you, please join VZ's "Lifelines to Solitary" quarterly online meeting on Saturday, September 23, at 1:30 pm. Everyone is most welcome to attend to learn about our ministry and discover how we "letter writers" have been changed by this practice.
For more information, please contact ChoGaku at marjoriesmccoy@gmail.com.


---
Summer Ango 2023
REFLECTIONS FROM ANGO

By Mark Toshi Solan


Being without

Seeing
without looking.
Loving
without acquaintance.
Comraderie
without fist bumps.
Sitting Silently, eyes down
Without subway din.
Walking
without destination
Breathing
without separation.
Being
without knowing.
Summer Ango
Views of Summer Ango from ChoGaku


Congratulations to New Jukai Members 2023

In the above photo, this Ango's Jukai recipients are as follows (left to right, not including teachers):


Mark Solan, TÔSHI 透志 Clear Resolve
Michael Hollander, EMYO 恵 明 Benevolent Clarity

JF Shaw, SAI JU 済珠 Liberating Jewel
Harry Sabnani, KAKUŌ 覚応 Awakening Response
Nancy Mann, ZESHŌ 是 照 Illuminating Reality
Dharma Names Explained

by Roshi Pat Enkyo O'Hara

[Editor's note: When Village Zendo students receive Jukai, they are given a dharma name. Along with their dharma name, Roshi offers the students an explanation of what their new name signifies—including its etymology, Buddhist symbolism, and various deeper meanings. Finally, Roshi offers each student an original verse. Below, the Bulletin is honored to share a slightly edited version of the dharma name explanations and verses from this year's class of Jukai recipients.]
Nancy Mann, your Dharma name is 是照 ZESHŌ, meaning IIluminating reality. It suggests a bright light that illuminates things as they are: quite literally, illuminating—just as it is!
Your first character, 是 ZE: means Proper, rightness, just as it is! The pictograph is of a spoon in its proper place and came to mean rightness, justice, correctness. In Zen, we use the phrase ZE to point to the vitality of things just as they are!
照 SHŌ means to illuminate, shine bright; the pictograph shows a sun, making light and fire (four strokes below), meaning illuminate, sunshine, light, reflect; and, like in English, it also carries a sense of checking, of observation, clarity.
Here's a poem for you:
Looking for the light,
Revealing the truth,
It's light seeking light, eh?
JF Shaw, your Dharma name is 済珠 SAI JU, Liberating Jewel.
Your first character, 済 SAI is water plus the sign for equal and came to mean clear water, pure, settled, even, put in order… In Buddhism, it can mean salvation. Thus we say, 'liberating.'

And your second character, 珠 JU, means jewel or pearl. A gem, a jewel, often a pearl, represents in Buddhist symbolism the hardness, the toughness of aspiration, of insight and clarity. Also, as the light plays on the precious jewel, we realize that it is the pearl beyond price, the ultimate: the enlightened life.
Here's my poem for you,
Where is that pearl?
Hasn't it always been here,
Beneath the dragon's chin?
Harry Sabnani, your Dharma Name is 覚応 KAKUŌ, Awakening Response.
Your first character, 覚 KAKU means to awaken, to learn, or to remember—even to 'sober up'! It is composed of two parts: one, to obtain knowledge; and two, to realize it. Thus, it came to mean to awaken. And in Buddhism, to enlighten.
And your second character, 応 Ō, means response or answer. It is a lovely character, showing a roof, or shelter, protecting a bird, and beneath these characters, the symbol for heart, thus meaning a response.
Taken together, your new name is Awakening Response, the quality of responding new, in this time, with an awakened heart that truly responds.
Here is my verse for you:
Waking up, over and over,
Throughout our life,
Responding to our gift,
Thank you thank you!
Mark Solan, your Dharma name is 透志 TÔSHI, Clear Resolve.
透 TO means clear, even transparent; the ideograph is made of two parts: one indicates movement—expressing to lead, and thus to excel. Also, a quality of non-obstruction. Now it means clear as the ability to pass through, to penetrate, see through.
志 SHI means will, intent; on the top part of the ideograph is an emerging plant, and below, the heart/mind; thus the movement/the emerging of the heart. It also now has a quality of intent, aspiration, desire, purpose, will, mind, determination, as well as a kind of benevolence.
Here is my verse for you:
When the heart is clear,
Wisdom arises,
Over and over,
Resolving and restoring.
Michael Hollander, your Dharma name is 恵明 EMYO, Benevolent Clarity.
恵 E – The first character has two parts, below, the heart/feelings (same as in shin) and above, a spinning weight. It looks very balanced and stable, and it acts phonetically to express give, and also means all-around—thus, the heart that gives all around, a generous, kind heart. Also, blessing is an associated sense, as well as a quality of favor, grace, kindness, intelligence, and wisdom.
Your second character, 明 Myo, means luminous, clear. Associated with sun and moon, both symbolizing bright, its connotations include open, clear-sighted, discerning, intelligent, clear, lucid.
A verse for you:
Bright! It is clarity that opens
The gates and the heart opens,
A kindness flows like sun and moon.
---

We communicate in three places online:
our email list, a Facebook page, and a Groups.io list
where we share events and information among the whole
Sangha. Explore these various ways of staying connected and
up to date here: https://villagezendo.org/connect-with-us/

---
Editor: Taylor Plimpton
Editor-at-Large: Nina Shuka Klippel
Managing Editor/ Design & Production: Howard Thoresen
---





DONATE HERE



In these trying times, the Village Zendo still relies on your support.
If you are able, please make a donation.


---