BULLETIN
December 2022
Central Park 11/29/22
"As a standard of giving, we say that the best thing to give is no-fear."

—Taizan Maezumi Roshi, Appreciate Your Life
Dear Sangha,
In this holiday season, when the act of giving is on our minds and in our hearts, I am moved by Maezumi's comment that the best thing to give is no-fear. (What about ugly Christmas sweaters, you ask? Well, those come in as a close second.) For me, this "no-fear" is in part a leap of faith—faith that we are already who we are meant to be, buddhas, bodhissatvas, each and every one of us. But the other (and perhaps most important) part of no-fear is that we show up. At the Zendo, on the cushion, for our family and friends, for the whole universe. Then, having summoned the courage to be ourselves, and to be truly present, we do what we can.
This no-fear, so apparent in our Sangha, manifests in myriad ways. It happens when we are brave enough to share our creativity, as Myoko Roshi does with her beautiful pottery (see below for an interview about her craft). It happens in every Dharma Talk, senior students and teachers, exposed, vulnerable, speaking straight from their hearts (for a list of upcoming talks, see the calendar below). And no-fear happens even (and perhaps especially) when we are afraid, as Jiryu reminds us in the account of his harrowing experiences rock-climbing (see our Reflections section at the end of the Bulletin).
This holiday season, how will you give no-fear?
With much fear, and a little no-fear,
Taylor Plimpton
Editor
---
DECEMBER CALENDAR
Thursday, December 1: Fusatsu Ceremony

Precepts Talk by Bokushu Sensei

Sunday, December 4: Online: Practice and Inquiry Circle

with Joshin Roshi, 9:30 am

In-Person: Body, Breath and Mind—

An Introduction to Zen, 9:30 am

Online: The Elder Years—Grit, Growth, Grace, 2 pm

Wednesday, December 7: Rohatsu, All-Night Zazen, 9 pm – 7 am

Thursday, December 8: Dharma Talk by Enkyo Roshi

Newcomers Meeting, 6:40 pm

Saturday, December 10: Rituals on Retreat Workshop

with Tokuyu Sensei, 3 pm

Sunday, December 11: Dharma Talk by Daishi Hoshi

Village Zendo Book Group, 5 pm

Thursday, December 15: Dharma Talk by Ryotan Roshi

Sunday, December 18: Dharma Talk by Ryoshin

Thursday, December 22: Dharma Talk by Jisei
Saturday, December 24 to Saturday, January 7:

Zendo closed for retreat and break.
Zendo Reopens
Sunday, January 8 at 9:30 am
_____________________________________
Ongoing Online Groups:

The Bolivian Sitting Group meets Saturday mornings, 8 am

Bolivia Zoom Meeting ID: 297 525 8394; Password: 1234

The People of Color Sitting Group meets Saturday mornings, 10:30 am

How to Meditate meets every Monday evening (except holidays) at 6:30 pm

Sorting Out Our Stuff meets Tuesdays at 10 am
---
Sunday, December 4, 2 pm – 5 pm

Online Only
THE ELDER YEARS

Laying the Foundation:

Planning for Safety, Security and Support
Presented by David Jimon Kunin, Diana JiFu Liakis, Marjorie ChoGaku McCoy

In Tricycle's Winter 2022 edition, longtime Buddhist practitioner and author Douglas Penick wrote "If you are reading this, your chances of ending up in a nursing home are just short of 50/50. That is to say, 4 out of 10 of Tricycle's readers are likely to end their lives in institutional care…. [P]eople have to make the most difficult decisions, plans concerning the last years of their lives, at a time they are least capable of doing so. Nonetheless, we will age, and something will happen to us…. As Buddhist practitioners, we will frequently have heard that we should practice to prepare for death. Now it will be clear that, as Buddhaghosa indicates, the path that will prepare us for death is old age itself." (Penick, The Magic & Mystery of Aging)
Our second workshop on the challenges and gifts of aging will offer practical information and resources for planning legally, medically, socially and situationally for our elderhood and death. The workshop will include formal presentations, as well as opportunities for participant questions and confidential intimate expression. (Specific medical, financial and legal advice will not be provided).
To prepare for the workshop, registrants and presenters alike are encouraged to reflect on "homework" questions, which are found here.
The workshop's updated reading and resource list is found here.
We recommend attendees have the reading and resource list, as well as pen and paper, available to you during the workshop.


Workshops are online only.

For further information contact ChoGaku.

Fees:
Laying the Foundation; $40
If you attended The Path of Wisdom and Compassion workshop and selected "Both Workshops" you have been contacted by the registrar. Any questions: registrar@villagezendo.org.

Your participation is important to us. If you would like to attend but are unable to give the full payment contact Ryotan Roshi at the Kaku Sensei Memorial Scholarship Fund.

---
On Rohatsu, we commemorate the Buddha's enlightenment by doing as he did, sitting zazen all night. This year our Rohatsu all-night sitting will take place for the first time in person and on Zoom, starting at 9 pm on Wednesday, December 7, and continuing until 7 am on Thursday, December 8.
There will be a Dharma Talk by Mukei Smith. The rest of the night we will sit in 25-minute periods punctuated by 10 minutes of kinhin for In-Person participants and breaks for Online participants in between. For those attending In-Person, refreshments will be served. Also, the opportunity for interview will be available for In-Person participants. Participants are encouraged to continue throughout the night, take their own breaks, and come and go as they need. At 6:30 am there will be a short service including the
Verse of the Kesa and the Work Gatha
.
Please join us for any part of Rohatsu to help celebrate this important date on the Buddhist calendar. Let's embody Shakyamuni's awakening and make the utmost endeavor!
Hybrid Event: Join Online or In Person
Registration is required for this event. Register for in-person and online
HERE
.
Suggested Donation
$10.
Go to
Support Us
; note "Rohatsu"
---
Saturday, December 10, 3 pm – 4:30 pm

Online Only
Given the strong interest expressed by the community, we are launching a series of workshops on ritual at the Village Zendo, designed especially for those who practice with us online. These will be less traditional training sessions than study opportunities to learn about how and why we do what we do. They are also meant to provide orientation for your own practice at home and online. Further workshops in the series will be offered in the spring.
Ritual on Retreat
Led by Tokuyu Sensei
Saturday, December 10, 3:00 – 4:30 pm
When should I bow? Which direction should I bow? Where should I stand?
When should I get up?
The forms that we use at the Village Zendo come from the zen monastic forms that we follow while on formal zen retreat, called sesshin. These forms can help us to fall into our practice while always staying in tune with the group and people around us.
In this interactive workshop, we will go through a typical day on sesshin. From the wake-up bell, until lights out, we will explore what happens and how these forms carry us through the day, while holding us in our practice.
Understanding these forms from sesshin can help make sense out of our daily zendo forms, our online forms, and serve as a "pre-orientation" for those who are coming to a retreat.
You are encouraged to bring a zafu and zabutan to the workshop, as it will help with practicing certain forms.
Suggested Donation: $25/per workshop. Go to
Support Us
; note "Ritual Workshop".
---
Sunday, December 11, 5 pm

Online Only
Village Zendo Book Group
Untangling Karma:
Intimate Zen Stories on Healing Trauma

By Judith Ragir
On December 11 at 5 pm, we'll discuss Judith Ragir's
Untangling Karma: Intimate Zen Stories on Healing Trauma
(Monkfish Publishing 2022).
Minnesota-based Zen priest Judith Ragir writes about her psychic wounds and the ways she has sought to heal them. She discusses her Jewish background and the legacy of the Holocaust; the effects of sexual abuse in her life and the life of her sangha; the history of racism in the US as reflected in her relationships with the Black women who cared for her as a child. Besides maintaining a Zen practice in the midst of intense family life, she looks to her experiences in twelve step programs, psychotherapy, and pilgrimages to Auschwitz, Hiroshima, and Ghana, as ways she's found to penetrate and (sometimes) dissolve her suffering. "As I approached the wounds within myself," Ragir writes, "I saw that a lot of our inner violence comes from the consequences of violence, war and oppression in our culture and history."
Honest, self-revealing, sometimes awkward, and sometimes astute, this book should make for a lively conversation. Plus, the individual chapters read as self-contained essays and the order doesn't seem to really matter, so you can go directly topics that interest you. Whether you've read the whole book, a chapter or two, or none, all are welcome.
VZ member Monica will facilitate the discussion.
Join the online discussion
on December 11 at 5pm.
---
Interview
A few years ago, I had the honor of interviewing Myoko in the large, sunlit studio she shares with another artist in Jersey City. We greeted each other, and Myoko served me coffee in one of her cups. I have a cup of hers at home, and it is one of my favorite possessions. Simple, yet full of grace and life, it feels in my hand like it could be the original cup, the one all the others are based on. There, in her studio, we talked, surrounded by works of pottery that felt very much alive—so that it was as if we were being gently watched, listened to, by a gallery of old, wise friends.

How do you see your work relating to your Zen practice?

Well, you know, it goes back to that age-old question of, what is practice? I mean, ultimately, I don't know how to separate the two things—they're not really two.

Do you find a sort of presence in making pots that reminds you of practicing Zen?

Well, for me working has always kind of been a refuge. Working in the studio, there's a combination of discipline and freedom that is not unlike zazen or a meditation practice. Just showing up and the activity of doing it is like 90%, and then through that a kind of quality of letting go can happen. That's the sweet spot, where you're not thinking about what you're going to do next—you're just in that zone where one thing is leading to the next thing and you kind of can step out of it.

When you set out to make a pot, what do you want it to accomplish or embody when it's done?

For me, when a piece is successful, it becomes a place where the mind can both rest, and yet at the same time travel—which kind of seems contradictory, but not really. In my work, I often experience feelings of remembrance alongside discovery—a sensation of returning to someplace new.

Can you explain that a bit more?

I think it's important to remind us of the inherent mystery of the vessel as a container. Holding tea, a simple cup is quite concrete and intimate—but, when empty, it may seem quite vast and monumental, with a real sense of openness to it. And then it's like, well, where does that openness lead you?

I've heard you talking about your zazen as a container that holds you and that you can rest in, while simultaneously offering that sense of openness. Did that come from your pottery experience, that metaphor, that description of zazen?

As a potter I've always been interested in this dynamic between inside and outside, and it comes up a lot when I'm glazing or making a rim—what is the inside, what is the outside, and where does one meet or become the other? I remember always having that question early on in my sitting practice: that sound out there, is it inside or outside my mind?
There's that wonderful quote from the Tao Te Ching: "We shape clay into a pot, but it is the emptiness inside that holds whatever we want use… We work with being, but nonbeing is what we use." This seems so apparent in your craft.

Well, it is so interesting, because when you're teaching pottery, you're always trying to get people to realize that what you're really thinking about is the quality of the space inside, and what that feels like. It's not about the outside silhouette. Form is not separate from the emptiness it's embodying or containing. So if you're just thinking of silhouette as an end in itself, surface appearance rather than the unseen structure within, the result can feel almost dead. You can see pots that look perfect, and the lines are perfect, but there's nothing happening inside.

Why does that happen?

Hard to say exactly, but I think it's mostly just a lack of presence.

When you're making it?

Yeah. It's kind of like already knowing what you're going to do—which can feel safer, though it isn't—so you're not really there, because then you don't have to be.
Not being alive with it?

Yeah.

Do you ever make pieces that feel that way?

Oh, yeah.

What do you do with them?

Well, I have piles of things I've thrown out—I mean, I throw out as much as I make, easily.

Do you know why those don't work?

I can just feel it and then I can see it. Sometimes it's just a technical thing, or sometimes somebody else might not see it but I can see the subtlety of proportion isn't there, or the shape is there, but it's just kind of static. Sometimes you may want something to be still, but you don't want it to be static. I just smashed a few pieces earlier.

Is it fun smashing the pieces?

It is. Though it's important for me to keep pieces that bother me around for a while first: there's a lot to be learned from reflecting on the mistakes. But then, once I've digested what's problematic or not working, it's just such a relief, to be like, let's put us both out of our misery [laughter].

Is there a sort of a balance between being in control with what you're doing and realizing that you can't be in control?

I think there's that constant tension—too much control is the kiss of death, and too little is I suppose the same—though, too little, interesting things can come from that.

Do you do a lot of experimenting in that way?

When I have time, yes. It's one of the best things about teaching, too, because I'm forced to teach techniques that I don't use myself, or consider inquiries I wouldn't have otherwise. The thing about teaching is that you get to be a student. Something interesting always happens—because then, how could it not, really?

What's the most important thing that you try to teach your students?

I guess to pay attention, especially to the details, and to really practice patience and perseverance. And the biggest thing is to think of making mistakes as useful—when we can see their value, they become a teaching, rather than just another way to beat yourself up. Because in making pottery, there are always a lot of mistakes—that never really goes away—which in the beginning, can be very frustrating. (Though to be honest, this embrace of one's 'mistakes' is an ongoing challenge—not just in the beginning—and it's much easier said than done!) The other thing is to become more involved with the process than with the outcome, which is interesting because when that happens, the outcome's always better.

Is there a sense in which you feel like you're fulfilling your bodhisattva vows in making this work and offering it to the world? Or, to put it another way, if someone buys a cup, does it make you happy to think that they're going to be drinking out of it?

Well, I often feel I should be doing work in the world that is of a directly political, economic, or healing nature. But I believe art has a similar, if more subtle, role. And I do feel a responsibility to do what I can to bring some beauty into the world.


Find out more HERE.

---


Winter Sesshin Year-End Retreat

Garrison Institute – Garrison, NY

December 26 – January 1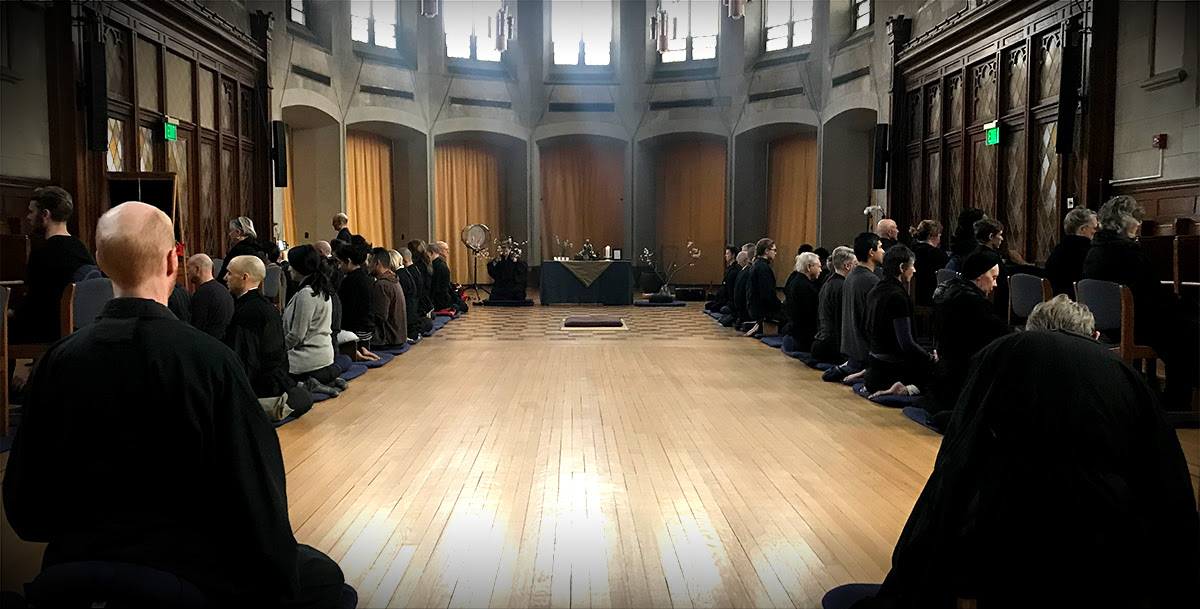 The Village Zendo's year-end retreat is the perfect time for quiet meditation and deep silence. Our schedule is serious (with plenty of zazen) but also spacious (with unstructured time in the afternoon for rest, outdoor walks or body practice). There are Dharma Talks every day, and ample opportunity to meet with our teachers. Delicious vegetarian meals are offered buffet-style. If you have put off doing a residential retreat, or felt intimidated to try one, this is a wonderful retreat to attend. Come and join the Village Zendo Sangha as we greet the new year with clear minds and open hearts.
For More Information and to Register:
---
Reflections
On Climbing
Photographer: Rita Strauss

By A. Jesse Jiryu Davis
I took eight months off work to concentrate on rock climbing. The style here in the Gunks, in upstate New York, is called traditional climbing, or "trad": When I climb up a cliff I'm attached by a rope to a belayer standing at the bottom. For protection, I gently slot pieces of metal (nuts or cams) into cracks in the rock and attach the rope there. If I've climbed five feet above my last piece of protection, for example, and I fall, then I'll fall at least ten feet before the belayer's weight catches me. Probably much farther, due to the rope's stretch and the slack the belayer allows me. If the fall is clean, I'll be fine, but there's often the danger of hitting a ledge, or the ground, especially if any pieces of protection pull out of the rock. So far, I've climbed conservatively. I hardly ever fall, and I've never been hurt.
Trad climbing needs some strength, a lot of skill, and a ton of courage, so courage has been the main attribute I cultivate. It's disarming to be part of a community that talks constantly about fear. I often meet strangers to climb, and we trust our lives to each other. We're afraid together, so we're also brave together.
It seems absurd to risk injury or death for a hobby. I do it for two reasons. First, because climbing is the most fun I've had since I was a kid. Second, because being scared on the rock is a powerful way to learn about my mind. When I'm at risk, like if I'm about to do a tricky move far above a ledge, my mind can be unhelpful. It might try to ignore the danger, telling me, "You'll be fine, you've got this, don't worry about the consequences of a fall." Or it might obsess about the danger, distracting me from performing the move with grace.
I found it useful to read
books by a climber named Arno Ilgner
, and take classes from the climbing coaches he's taught. Ilgner advises climbers to distinguish between two modes: deciding and executing. When you're deciding, you consider the risks and find the best way upward. Then you choose what to do and do it, with full commitment and no further thought, until you reach the next stopping point. There's no room for criticizing yourself or wishing you were elsewhere. Ilgner says that before you have even left the ground, you must accept the consequences of your decision to climb. With this mindset, on good days, I can climb beautifully even when I'm scared.
---
Connect With Us
We communicate in three places online:
our email list, a Facebook page, and a
Groups.io
list
where we share events and information among the whole
Sangha. Explore these various ways of staying connected and
up to date here:
https://villagezendo.org/connect-with-us/
---
Editor: Taylor Plimpton
Editor-at-Large: Nina Shuka Klippel
Managing Editor/ Design & Production: Howard Thoresen
---
DONATE HERE
In these trying times, the Village Zendo still relies on your support.
If you are able, please make a donation and type
"DANA" in the Comments box. Thank you!
*|HTML:REWARDS|*

*|END:IF|*
*|IF:REWARDS|*