In Central Park

"If the only prayer you said was thank you, that would be enough." —

Meister Eckhart



Dear Sangha,

As many of you already know, the formal name of the Village Zendo is Dotokuji, which translates as True Expression Temple. I am reminded today, gathering together this Bulletin, of how many forms this expression—this true expression—can take. True expression manifests in action, like, for instance, when Sangha members come together to support a refugee, as Doshin reflects upon below. True expression happens in the clear, intentional ringing of a bell, as we'll learn during the upcoming Rituals Workshop. True expression occurs in Dharma Dialogue, as Shuso Jeff Shugo Bergman has just proven—the natural spontaneity of response when it comes from a place of openness and presence. (Congratulations, Shuso!) And true expression reveals itself even in the fixed form of the printed word, as it does in Sal Gessho Randolph's new book, The Uses of Art, which we are grateful to be able to excerpt below in our Reflections section.

Last but not least, in this month of Thanksgiving, true expression happens whenever we give sincere thanks—as Meister Eckhart reminds us, no other prayer is necessary.

With grateful bows to you all,

Taylor Plimpton
Editor

---
NOVEMBER CALENDAR
Thursday, November 3: Dharma Talk by Bokushu

Sunday, November 6: Online Zendo, 9:30 am, Dharma Talk by Kojin

In-person Zendo 9:30 am, Body, Breath, and Mind:

An Introduction to Zen


Sunday, November 6: The Elder Years, 2 pm

Thursday, November 10: Dharma Talk by Myoko Roshi

Newcomers' Meeting, 6:40 pm
Friday, November 11: Zendo Closed for Veterans' Day
Saturday, November 12: Zazenkai with Dharma Talk by Fusho Hoshi

Sunday, November 13: Dharma Talk by Ryoshin

Thursday, November 17: Dharma Talk by Daishi Hoshi

Saturday, November 19: Rituals Workshop, 3 pm

Sunday, November 20: Dharma Talk by Jo An Sensei
Thursday, November 24: Zendo Closed for Thanksgiving
Sunday, November 27: Dharma Talk by Mukei
Ongoing Online Groups:

The Bolivian Sitting Group meets Saturday mornings, 8 am

Bolivia Zoom Meeting ID: 297 525 8394; Password: 1234

The People of Color Sitting Group meets Saturday mornings, 10:30 am

How to Meditate meets every Monday evening (except holidays) at 6:30 pm

Sorting Out Our Stuff meets Tuesdays at 10 am
---
Sanghas Supporting Refugees

An update by Doshin


The Sanghas Supporting Refugees initiative was greatly enriched when we were finally matched with our new friend from Latin America. The moments spent bringing NYC area Buddhist sanghas and friends together, getting to know one another and forming committees, gathering dana, collecting furniture, and then months of patiently waiting for that phone call from HIAS that a match had been made, all came to a head during the beginning of September. We had only days to find an apartment, execute a lease, furnish the space, and create a welcoming home so that our friend could deeply rest after a long journey—a home where he could feel safe and supported.
Through the outreach of a group member, we found a beautiful, rent-stabilized apartment in Queens owned by a family who had been refugees themselves and who were also sponsored by HIAS during WWII.
The welcome was awe-inspiring, and we wish we could have captured those moments for everyone at Village Zendo who has been supporting this effort.
The first few days in the city were rather daunting for our friend. When he wasn't exploring the city with us volunteers, going to Central Park, the Natural History Museum, or Times Square, he stayed close to his new home exploring his neighborhood. Jindo and I accompanied him to the Met where his interests took us to galleries we had never seen before. We introduced him to falafel and managed, with my terrible high school Spanish and Google translate, to have meaningful conversations over hummus.
Our friend has been attending ESL classes at a local Queen's library, and fortunately for all of us, Google translate works quite well—most of us have to use it to communicate with him.
Many thanks to those who donated their time, effort, or other resources! Your generosity is much appreciated and has had a big impact.
We are currently looking into ways we might help a Ukrainian family come to the city. Please email me at
sanghassupportingrefugees@villagezendo.org
if you have any questions or want to get involved.
---
Beginning Sunday, November 6, 2022 from 2 to 5 pm
THE ELDER YEARS

Grit, Growth, Grace

ONLINE WORKSHOPS
As we move through our elder years, how can we continue to evolve with dignity and grace? How can we remain safe, assured that "someone has my back?" How can we help our loved ones and fellow sangha members do the same?
These and related questions arose in response to the Village Zendo Book Group's discussion last year of Atul Gawande's
Being Mortal
, which addresses America's moral and medical failures regarding the elderly. In response, the Village Zendo is offering a two-part online workshop this Fall entitled "The Elder Years: Grit, Growth, Grace." All are welcome to attend to consider what might lie ahead for us and those we love as we navigate growing old in America.
Reading lists and helpful resources will be provided and also posted on our
website
.
We hope this series leads to further dialogue about how we can strengthen our sangha and receive support while supporting others. Please join us!
For questions or further information contact
registrar@villagezendo.org
.
Workshop 1:

The Path of Wisdom and Compassion

November 6, 2:00 pm – 5:00 pm
Online Only
Spiritual Challenges,

Gifts and Practice in the Elder Years

Led by Willie Mukei Smith, Anne Jisei Reigeluth, Trudi Jinpu Hirsch, Sherri Jyakuen Posey, Tita Angangco, Keely Rakushin Garfield and Marjorie ChoGaku McCoy.
Workshop 2:

Laying the Foundation

December 4, 2:00pm – 5:00pm

Online Only
Planning for Safety, Security and Support
Led by David Jimon Kunin, Diana JiFu Lakis and Marjorie ChoGaku McCoy.
Spiritual Challenges of Aging: Recommended Reading

Building a Foundation: Recommended Reading: (in progress)
For more information and to register click
HERE
---
Thursday, November 10, 6:40 pm
NEWCOMERS MEETING
Are you new to the Village Zendo online community? Would you like to get to know some of the teachers, meet other community members and ask questions informally? If so, please consider joining us for an open conversation on the second Thursday evening of every month. No reservation needed—just show up when it works for you.
This offering complements our ongoing weekly "Learn to Meditate" program, which occurs at 6:30pm on Monday evenings.
Time: Second Thursday of every month, starting at approximately 6:40 pm, immediately following the Dharma Talk and chanting service.
Join Online
HERE
---
Saturday, November 12, 8:30 am – 12:30 pm

Online and In-Person
ZAZENKAI




Dharma Talk by Fusho Hoshi

We invite you to participate in Village Zendo's Zazenkai, a half-day retreat that will be held both online and in person. It will include ample periods of meditation, service, a Dharma Talk, and conclude with open sozan.

Zazenkai will be held in a hybrid format, in which both virtual and in-person participants will practice together.

Please note that there is separate registration for online and in-person attendance.

For those that will be practicing with us virtually, please review our online recommendations. https://villagezendo.org/events/online-zazenkai-interim/

For more information and to register
CLICK HERE
---
Saturday, November 19, 3 – 4:30 pm:

Rituals Workshop

The second of three workshops:
Led by Fugan Sensei
When we sit in community at the physical Zendo, the space is optimized for zazen, forms are in place, and the rituals, gestures, and practices of Zen flow easily along well worn paths. At home, it's not so easy.
In the "Setting Up for Zazen" workshop, we will explore ways to create a peaceful container to support home practice, especially for the Online Sangha. In this interactive session, we'll consider home setups for zazen, altar arrangements, approaches to liturgy, and the Zen forms you can embody in your space to help maintain a steady and strong practice.
Coming in December:

Saturday, December 10, 3:00 – 4:30 pm
"Ritual on Retreat." Led by Tokuyu Sensei
JOIN ONLINE
HERE
Suggested Donation: $25/per workshop.
Go to
Support Us
; note "Ritual Workshop".
Further workshops in the series will be offered in the spring.
---
Coming in December:
Village Zendo Book Group
On December 11th at 5 PM, we'll discuss Judith Ragir's
Untangling Karma: Intimate Zen Stories on Healing Trauma
(Monkfish Publishing 2022).
Minnesota-based Zen priest Judith Ragir writes about her psychic wounds and the ways she has sought to heal them. She discusses her Jewish background and the legacy of the Holocaust; the effects of sexual abuse in her life and the life of her sangha; the history of racism in the US as reflected in her relationships with the Black women who cared for her as a child. Besides maintaining a Zen practice in the midst of intense family life, she looks to her experiences in twelve step programs, psychotherapy, and pilgrimages to Auschwitz, Hiroshima, and Ghana, as ways she's found to penetrate and (sometimes) dissolve her suffering. "As I approached the wounds within myself," Ragir writes, "I saw that a lot our inner violence comes from the consequences of violence, war and oppression in our culture and history."
Honest, self-revealing, sometimes awkward and sometimes astute, this book should make for a lively conversation. Plus the individual chapters read as self-contained essays and the order doesn't seem to really matter, so you can go directly topics that interest you. Whether you've read the whole book, a chapter or two, or none, all are welcome.
Join the Book Group
HERE
---
Winter Sesshin Year End Retreat
Garrison Institute – Garrison, NY

December 26 – January 1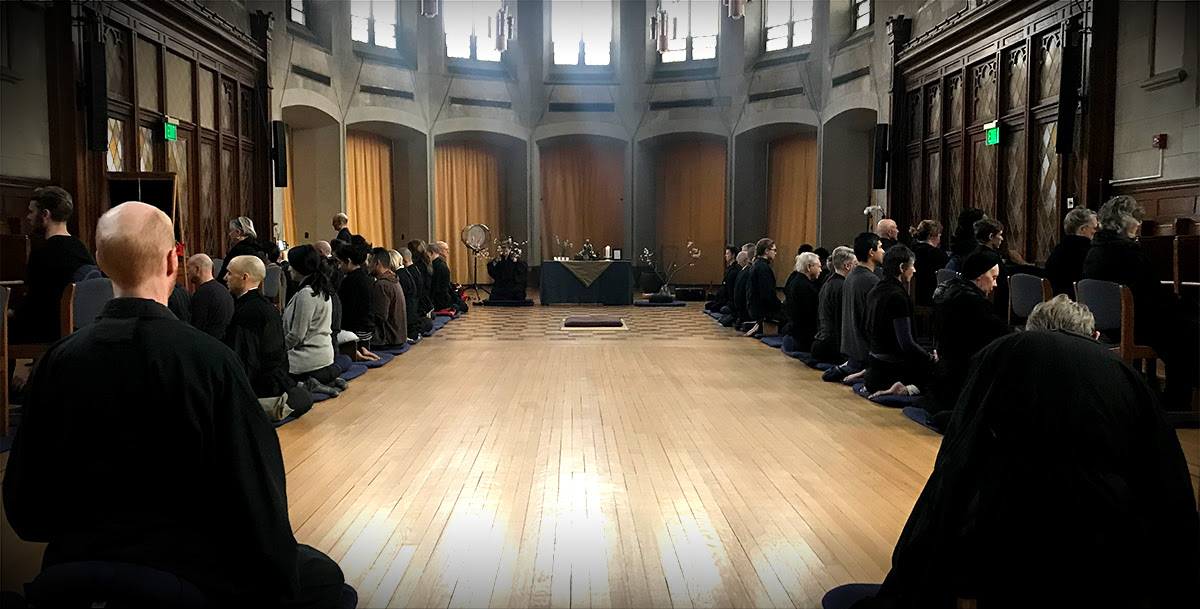 The Village Zendo's year-end retreat is the perfect time for quiet meditation and deep silence. Our schedule is serious (with plenty of zazen) but also spacious (with unstructured time in the afternoon for rest, outdoor walks or body practice). There are Dharma Talks every day, and ample opportunity to meet with our teachers. Delicious vegetarian meals are offered buffet-style. If you have put off doing a residential retreat, or felt intimidated to try one, this is a wonderful retreat to attend. Come and join the Village Zendo Sangha as we greet the new year with clear minds and open hearts.
For More Information and to Register:
.
Click Here
.
---
REFLECTIONS:
Selections from The Uses of Art,

a new book by Sal Gessho Randolph
Cloud Self
When we look at a painting long enough to remember it, there's a curious exchange of self-stuff. We take in the painting and reconstitute it inside ourselves, enlarging ourselves that way, and we leave it behind in physical space, distributing our self onto the walls of the museum.
I told this idea to my friend Bonnie as we were sitting one night in a neighborhood restaurant, and she thought it was preposterous. But I do mean it. Places and physical objects naturally store memories by being part of the sensory surround of our experience. This very room, I told her, is absorbing our experience of being here. The next time we're here, the wallpaper will have a little of our conversation left in it, a little of the feeling of being here together. When we see it again (a matte orange wallpaper with a design of silvery giraffes), when we taste this lemon ravioli, it will be easier to remember bits and pieces of our conversation, of all our conversations.
The phenomenon I was talking about is ordinary and familiar. Think of standing in your childhood bedroom, think of Proust's madeleine. It is the reason that memory palaces are possible: we can create imaginary spaces that have something of the same effect on memory that real places do. Memories are revealed when some new aspect of experience tugs on old threads.
We leave ourselves everywhere we go. The self is like a cloud of experiences distributed in time and space—not so very different from the notion of cloud computing, where our digital files are stored in a shifting matrix of remote servers. Everything we look at becomes us, as it is taken in and remade in experience, but this also works in reverse: we become what we see as we look, and whatever we see keeps some aspect of us to give back, should we ever return.
Tolstoy said, "Every work of art causes the receiver to enter into a certain kind of relationship both with him who produced, or is producing, the art, and with all those who, simultaneously, previously, or subsequently, receive the same artistic impression."
We can imagine other forms of association that go further. Arguably, even if we've never seen a Vermeer in a museum, or even a reproduction of a Vermeer, by referring to it, thinking of it, and trying to imagine it, some kind of connection is made to the actual painting.
Still Life
A grey day in early spring, and I sit at my desk watching the rain come on, first the sound of it, then streams of water blurring and distorting my view of street and trees. On my desk is an empty cup, lit by the window, its greenish-blue glaze luminous. The cup is handmade. There are faint ridges on the inside where someone's thumb once pulled the clay upward as it spun on the wheel. The cup is intimate, humble, patient.
Still life—a painting whose determining quality is the unmovingness of its subject. The gaze shifts, but what is looked at remains silent. Nothing happens.
If I look at that cup long enough, in some sense do I become it? Do I feel myself growing hollow? Its objectness carries me deeper into subjectivity. The more I look, the more the cup begins to mean. Soon it is the universe waiting to be filled with itself. It is everything.
What does it mean to paint an object? To sit with it and watch nothing move. By looking at it, you submit yourself to its gaze—it studies you.
Narrow Road
I'm listening to the rain and reading
Narrow Road to The Deep Interior
, the travel journals of the Japanese haiku poet Bashō. Alongside it I have a small volume of commentary by Jane Hirshfield. She says that Bashō once sent a student a poem that uncharacteristically made a direct reference to Zen, and the flashing moment of enlightenment called, in Japanese,
satori
:
how admirable—
a man seeing lightning
and not satori
Every Morning
I wake up every morning and read myself into existence. I know my own mind by reading the words of others and watching the resulting interaction. In a sense, to me, a mind is what reads, and in reading, thinks. Walking through the city on my way to the studio, I enact another version of this: I look myself into existence. I look at people and imagine my way into their bodies and their lives. This one in his black leather jacket walks heavily, tired, smoking a cigarette. That one pulls her cascade of tangled curls to one side, and when she turns her face towards me I see she is younger than I thought, eyes made up, carefully arched eyebrows, expression serious and intent yet somehow curious. I walk and look at the light falling on building fronts, reflected off windows, caught in the leaves of trees, picking out crushed coffee cups, glinting off the sidewalk. The elevated train rumbles by. A woman limps past with her cane hardly touching the ground. It's just the city, just life. Looking at it makes me. Sometimes it even looks back.
https://bookshop.org/p/books/the-uses-of-art/18891717
---
Connect With Us

We communicate in three places online:
our email list, a Facebook page, and a
Groups.io
list
where we share events and information among the whole
Sangha. Explore these various ways of staying connected and
up to date here:
https://villagezendo.org/connect-with-us/
---
Editor: Taylor Plimpton
Editor-at-Large: Nina Shuka Klippel
Managing Editor/ Design & Production: Howard Thoresen
---
DONATE HERE


In these trying times, the Village Zendo still relies on your support.
If you are able, please make a donation and type
"DANA" in the Comments box. Thank you!
*|HTML:REWARDS|*

*|END:IF|*
*|IF:REWARDS|*